When looking for a do-it-yourself (DIY) home automation and security system there are a couple ways you can go about building the best system for your smart home. You could either pick or choose devices that are compatible to each other but made by different manufacturers. And you could choose to go with one manufacturer who makes all the devices you need for your smart home today. If you want to go with this option, one of the manufacturers you should consider is Aqara. They sent over several of their smart devices, including their G2H Camera Hub to test in a real home. In this review we are going to provide insights on each device and results from testing each one, including the Aqara camera hub G2H, an Apple HomeKit compatible hub which functions as a camera and a Zigbee hub.
​What is Aqara Home Automation System?
Aqara is a manufacturer of well-designed, affordable and easy to use smart home products and solutions. Their products range from smart sensors to switches, curtain controllers and smart door locks. These devices are controlled by their smart home hubs which can be either a stand-alone hub or a camera hub. All hubs support Zigbee 3.0 and can control up to 128 Aqara devices per hub. The hubs are compatible with Apple HomeKit and work with Siri, Amazon Alexa and Google Assistant voice platforms. For this review, we tested the G2H Camera Hub, Vibration Sensor, Temperature and Humidity Sensor and Motion Sensor.
What is Aqara Camera Hub G2H?
Aqara Camera Hub [email protected] unboxed.
GearBrain
Aqara G2H Camera Hub is a smart home camera hub that can help you secure and automate your smart home. It is Apple HomeKit compatible and has a HD camera built into it. The Aqara G2H comes with IR night vision, AI face recognition, two-way audio, 140-degree wide angle lens and 1080P HD video resolution.
This hub is different than other smart home hubs we have tested. It will allow you to connect to 64 Aqara devices for home automation and remote monitoring via Zigbee 3.0 wireless protocols. However, it does not integrate with other Zigbee compatible smart devices.
This Zigbee smart home hub does offer users the ability to make one click video messages. The camera comes with an Omni directional noise cancelling microphone that can pick up sounds up to 5 meters away, its maximum speaker volume is 85 decibels, and the AI facial recognition is easy to set up in the Aqara app. Facial Recognition is helpful for when you're not at home and you want to be alerted when your kids arrive in the house or if an unwanted guest might appear. All alerts and notifications are setup in the Aqara free app which is available for iOS (10.3 or later) and Android devices (5.0 and above).
Another nice feature of the Aqara G2H hub are activity zones. You could set the zones up using the Aqara app. Activity zones are the areas in-view of your camera that you would like to be alerted when someone is detected. Setting these zones up a simple.
How to position your Aqara hub? The Aqara Camera Hub comes with a built-in magnetic base. The magnet is strong and can help attach your camera to the surface of any metal object. You can also get iron wall mount which you could screw into the war using the supplied anchors. And then use the magnetic mount to secure your camera hub and position it in the optimal viewing angle. Aqara Camera Hub G2H can be positioned either horizontally on the wall or upside down, depending on the angle you need.
One of the best features of the Aqara Camera Hub G2H is the enhanced security capabilities. The G2H can also be used as the hub for your do-it-yourself (DIY) home security system. It has most of the features you need to secure your home. It has night vision, AI face recognition, custom motion zones to detect unwanted visitors, HD camera, two-way audio and a wide field of view. And you can store your recorded videos locally on a micro-SD card. However, there is no siren built-in to the G2H. You would have to use one of Aqara's other smart home hubs, like the Aqara Hub M1S which has a built-in speaker you can use as an alarm.
The Aqara Camera Hub G2H has a manufacturer's suggested retail price is $74.99 but is on sale on Amazon for $64.99.
Aqara Vibration Sensor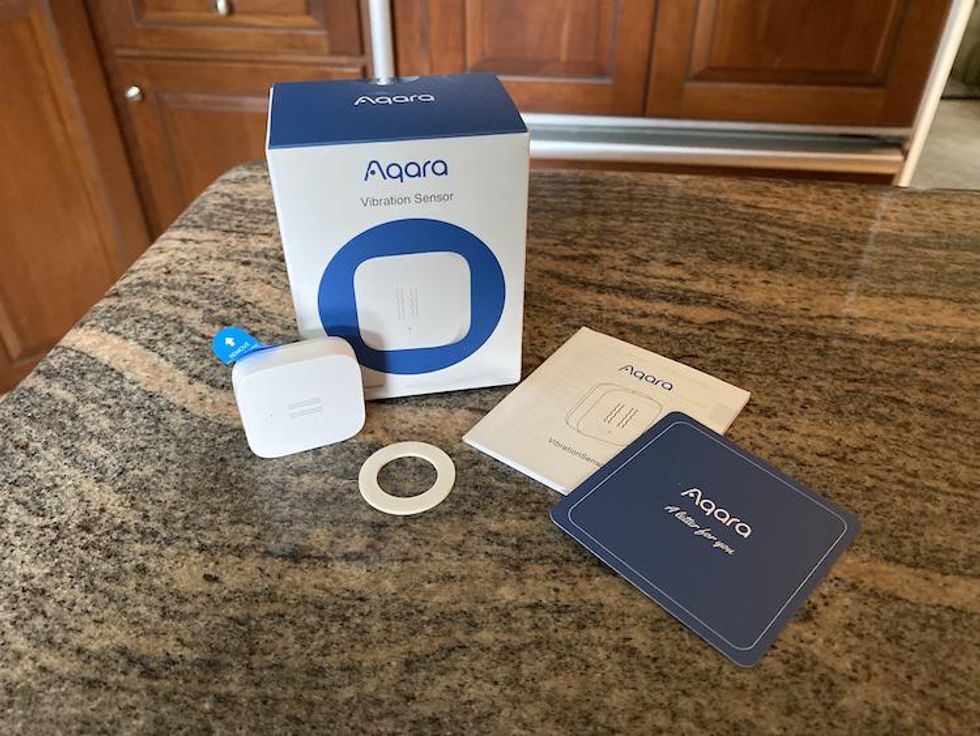 Aqara Vibration Sensor unboxed
GearBrain
Many DIY smart home systems come with sensors that can detect motion and temperature changes. Aqara Vibration Sensor is a wireless sensor that you can place anywhere in your home to safeguard priceless items or entry ways. It measures 1.42 x1.42x 0.35 inches and comes with a sticker for secure placement. This sensor does require an Aqara hub to enable it to work with HomeKit or set alerts and notifications. It has an embedded high precision acceleration sensor built-in and is battery powered (lasts up to 2 years.) It's made of anti-UV material and works on a Zigbee 3.0 wireless connection.
How does it work? Once setup and paired with your Aqara hub, the Aqara Vibration Sensor will send an alert to the hub when it detects a vibration. A vibration could be caused by movement or dropping an object which the Aqara Vibration Sensor is attached to in your home. Best placements for this sensor would be on valuable paintings, drawers, liquor cabinet, interior doors and medicine chests. Anywhere you want to monitor when not home or in the room.
The Aqara Vibration Sensor costs only $19.99 and is available on Amazon.
Aqara Motion Sensor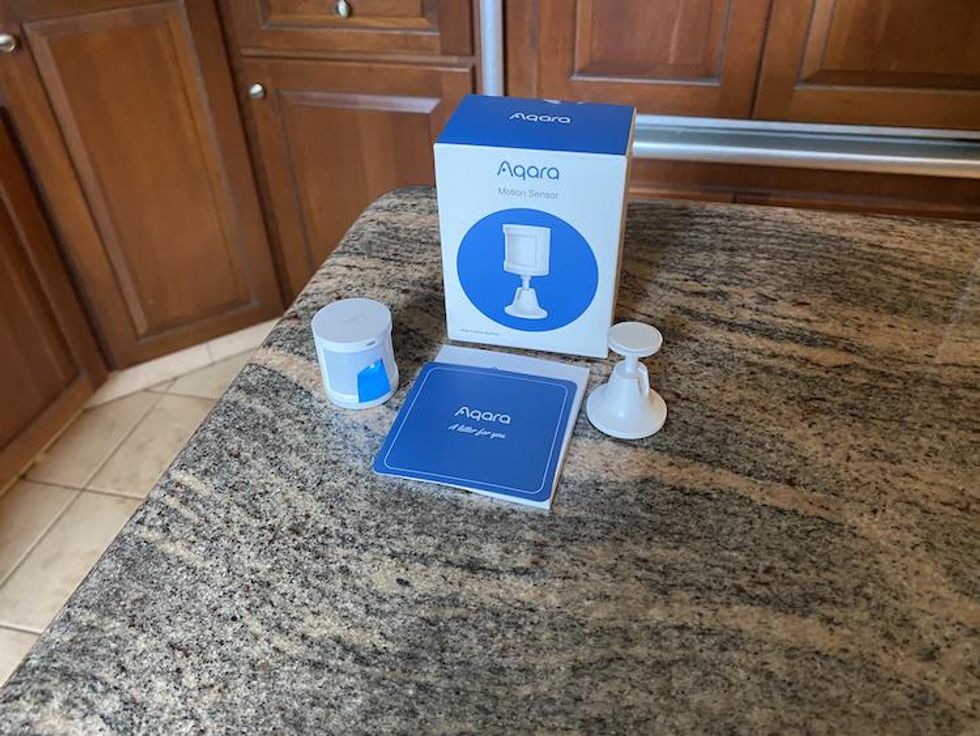 Aqara Motion Sensor unboxed.
GearBrain
All good smart home security systems come with a motion sensor. Aqara Motion Sensor is a unique motion sensor. It's small, measures 1.18 x 1.18 x 1.30 inches and comes with a stand and sticker. It has a Japanese infrared sensor to help detect human motion through moving heat source. It also has a US Polyolefin Fresnel lens that is used for high precision detection. These two features, along with a 170-degree motion detection, work together to provide optimal detection inside your home.
Aqara Motion Sensor is battery powered and does require an Aqara Hub. Once paired with a Aqara Hub, you will have a DIY smart home security system ready to secure your home. Just setup alerts and notifications when motion is detected. You can even have your hub sound an alarm when the Aqara Motion Sensor detects motion. And if your hub is connected to Apple HomeKit or Amazon Alexa enabled devices, you will be able setup automations with other compatible devices when motion is detected.
Aqara Motion Sensor costs only $20.49 and is available on Amazon.
Aqara Door and Window Sensor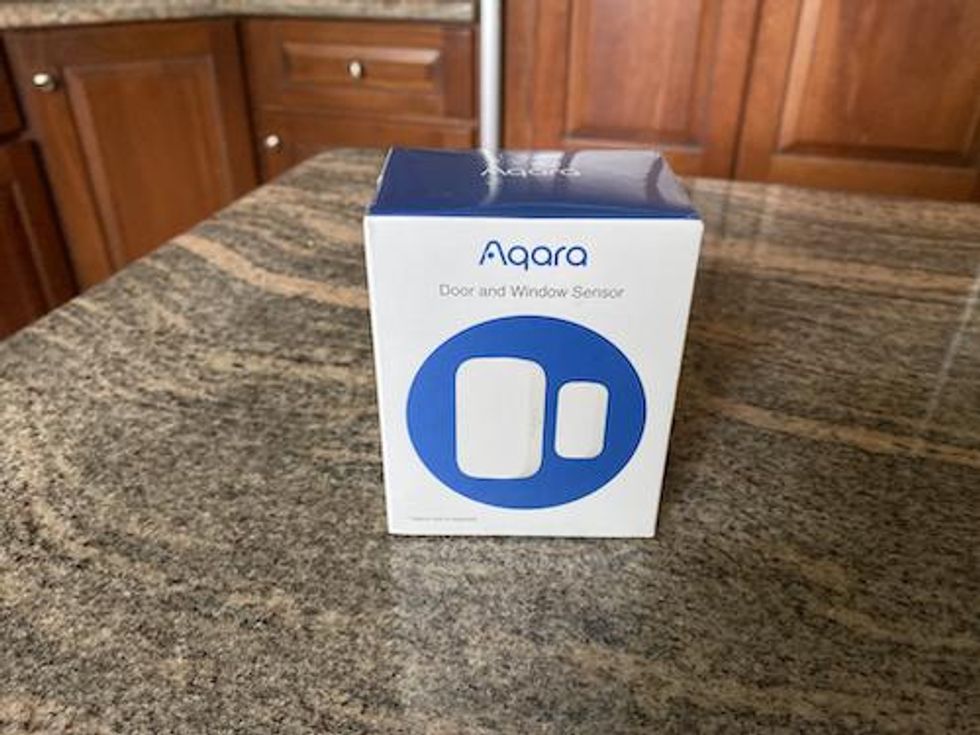 Aqara Door and Window Sensor
GearBrain
One of the standard devices you get with any smart home security system is a door/window sensor. These sensors help monitor the entry ways to your smart home. Aqara offers Door and Window Sensor that work with any of their hubs. It works on a Zigbee connection and when paired with an Aqara hub, will be able to trigger your hub alarm or send push notifications to your smartphone using the Aqara app.
The Aqara Door and Window Sensor is battery powered and is easy to install. It uses magnets inside the sensors to monitor the status of your doors and windows. It costs only $17.99 each and is available on Amazon.
Installation - How to Set up Aqara Smart Devices
Setting up an Aqara system is simple. First, download the Aqara app from Google Play or App Store. When using the Aqara app, you might notice it looks just like Apple HomeKit's app. If you are familiar with HomeKit app, set up will be a breeze.
Next follow the instructions in the app for Adding Accessories. The app will ask you which device you want to add. Select the Aqara hub you have and follow the prompts. Installing the Aqara Camera Hub G2H was quick and easy. Just follow the instructions to setup your hub. Once setup, you will be able to add additional Aqara devices and create automations. Tip: when adding devices, make sure you are close to your home router. This will make the pairing process easier. Also, if prompted to update your firmware once the device is paired, do it.
Smart Home Integrations with Aqara Devices and Hubs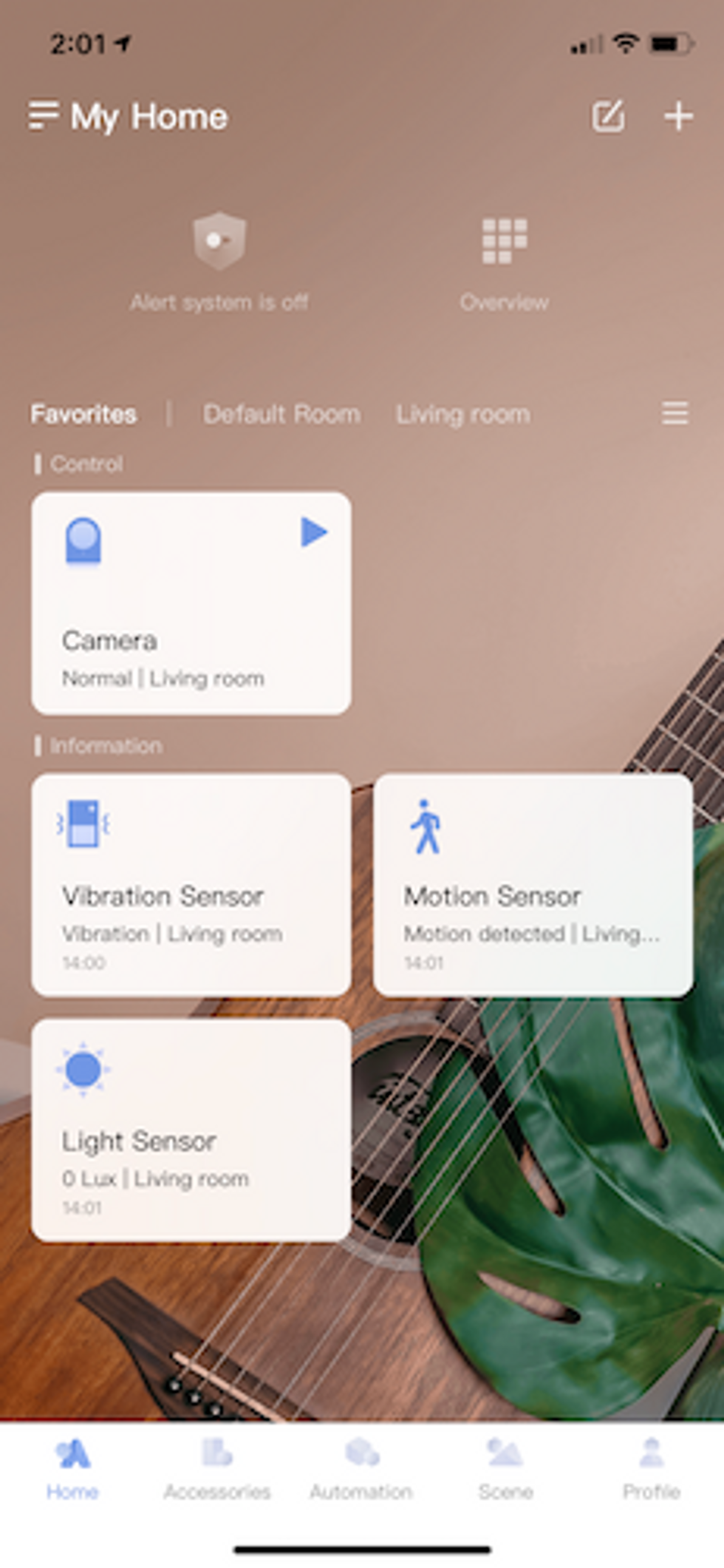 Aqara app is where you will setup all your automations and control your Aqara devices.
GearBrain
Once we had all the devices setup and in place, we tested adding the Aqara camera hub with Apple HomeKit enabled devices. One important detail to note with Aqara smart home platform is even though it works on the Zigbee wireless protocol, their hubs will only control Aqara devices. If you want your Aqara hubs to act like a true hub with all your Aqara devices, including other Zigbee compatible devices, it is recommended you use one of the Voice Assistant platforms for these integrations. Connecting your Aqara Hubs to these smart speakers and displays is quick and easy. However, not all Aqara hubs work with Amazon Alexa or Google Assistant enabled devices. The G2H Camera hub is compatible only with Apple HomeKit. The Aqara G3 Camera Hub, Aqara Hub E1, Aqara Hub M1S and Aqara Hub M2 are compatible with Alexa, Google Assistant and IFTTT platforms. The Aqara app will guide you through the setup process for these types of integrations.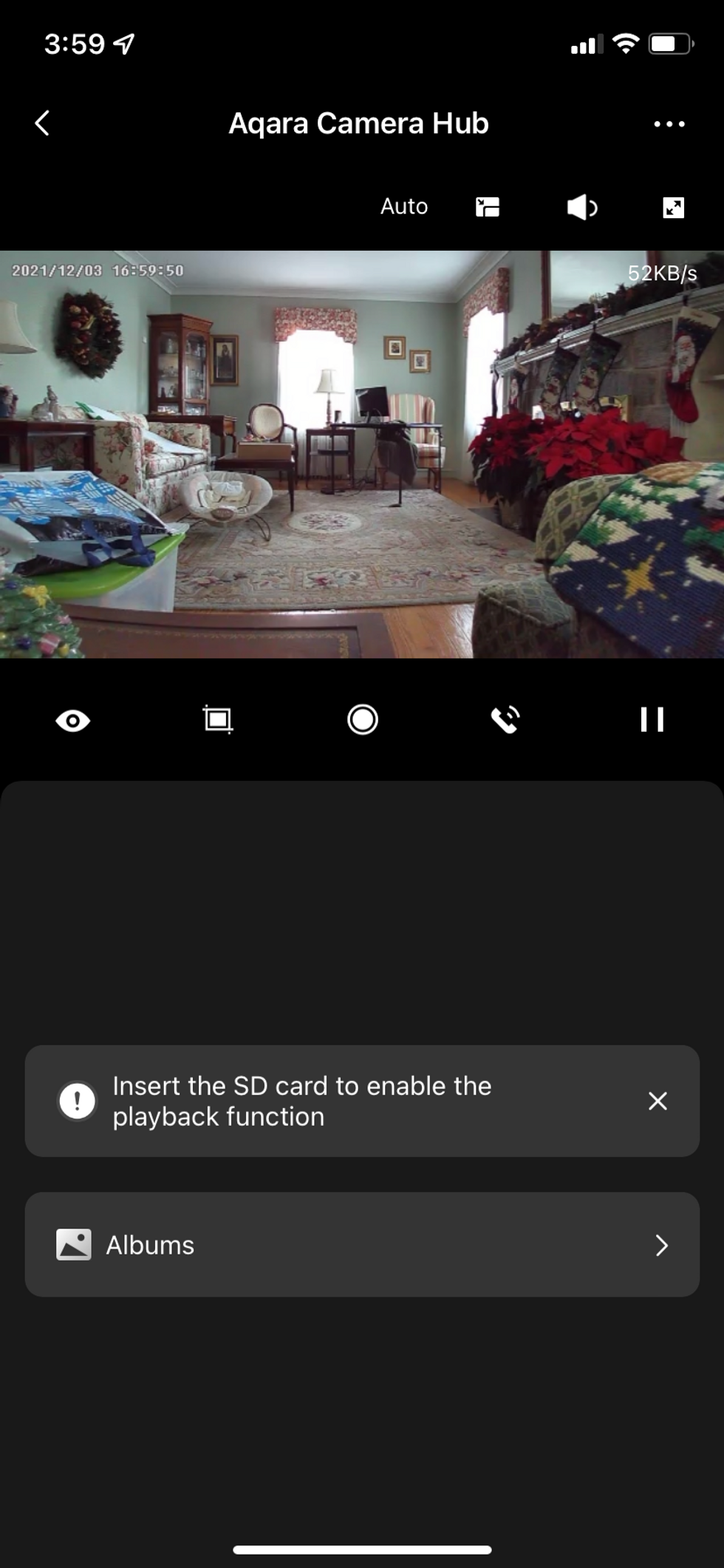 Video feed from Aqara Camera Hub G2H daytime.GearBrain
Performance
Testing the Aqara devices was easy, and each performed as expected. We did find the Aqara Vibration sensor to be helpful in monitoring specific drawers and internal doors. Setting up the notifications and automations was a little different than other smart home devices we have tested. The process was like how you set up IFTTT applets. You need to select the first device for "If" and next select the action, like "record" for "Then". We think this could be made easier for novices to smart home devices.
Regarding the Aqara Camera G2H hub, we like how there was no monthly fees for storing videos. The camera hub allowed us to store videos locally on a micro-SD card. The benefit of storing the videos locally enables you to capture in-view videos without a network connection. However, if you want to store videos in the cloud, Aqara has an option for you. Since they are Apple HomeKit compatible, you can store videos in your iCloud account if you want.
When dealing with the Aqara app, it felt like we were using the Apple HomeKit app. Its design is similar as well as its functionality of the HomeKit app. Aqara does allow you to use the Apple HomeKit app to set up automations, but only if have an Apple TV or HomePod acting as your hub. If you want to add automations, notifications and alerts for your Aqara devices, you will need to set it up in the Aqara app.
The overall video quality and resolution from the Aqara Camera Hub is pretty good. However, the sound quality is not. When speaking, you will hear a slight delayed due and a lot of crackling noise. The delay is due to the voice communication being done over the internet. We see this a lot in smart security cameras. We did like the versatile mount. It provides a lot of flexibility to help you find good viewing angles and the night vision was crisp. We were able to see clearly anytime of the day with the camera.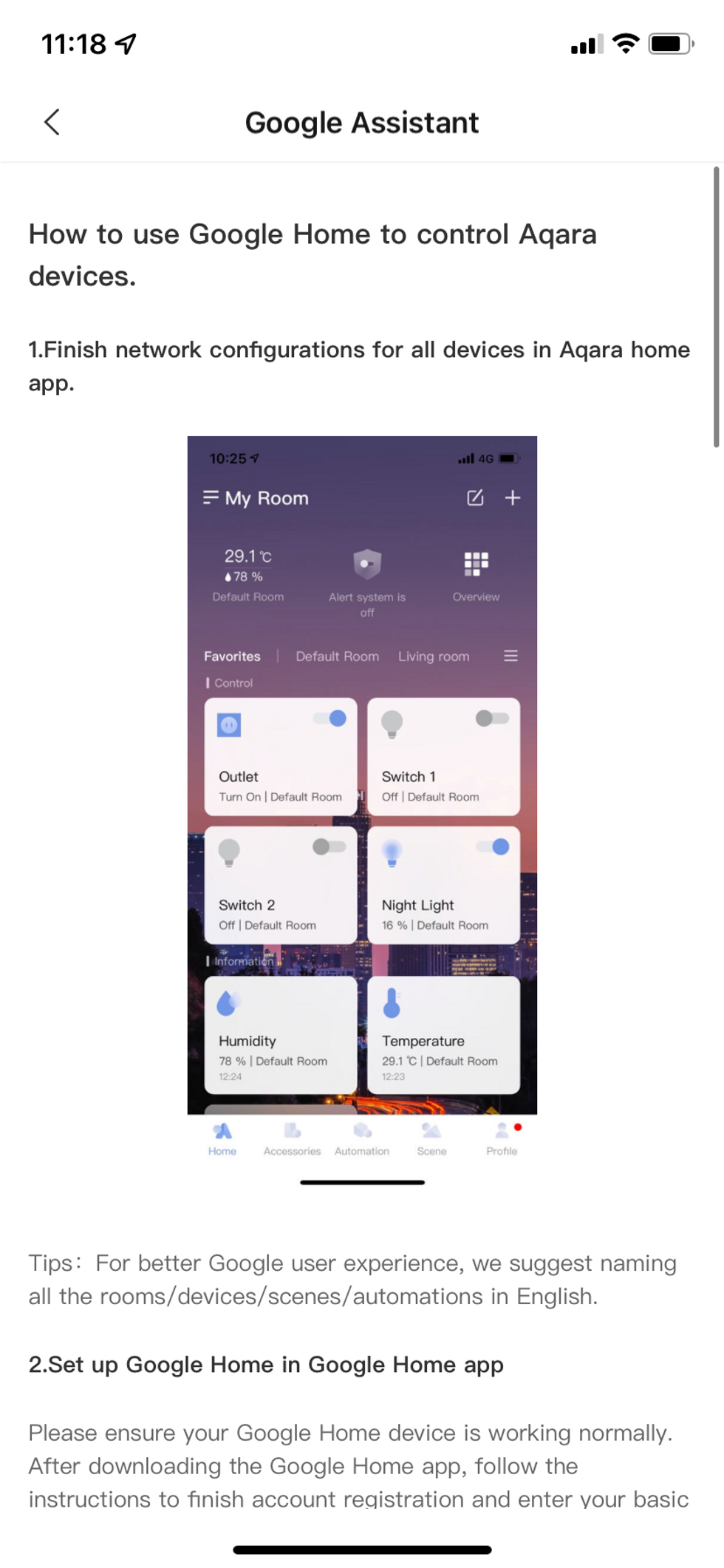 Here is what you can do with Aqara hub when connected with Google Assistant enabled devices.GearBrain
Summary
When building a DIY smart home system, it reminds me of how you use to build your stereo system. You had two options: buy a system that is all in one (i.e., speakers, amplifier, tape deck, record player and CD player) or cherry-pick devices to build your own custom stereo system. If you want to build a custom solution using various manufacturer's smart devices, Aqara is not for you. But if you want an all-in-one smart home system which will assure all devices are compatible, Aqara is a good start, especially if you like and use Apple products.
Aqara devices are inexpensive, and they offer tons of smart devices that can work together to make your home smart. There are no monthly fees or costs. The hubs come in all shapes and sizes which gives you options on how you want to control all your devices. And they are easy to install and work with Apple HomeKit devices.
However, there are a few questions you need to ask yourself prior to buying any Aqara devices. First, you must decide on which connected hub you want powering your Aqara system. Do you want a hub that is also a security camera or maybe a hub that is more traditional looking and looks like a hockey puck? Aqara offers several types of hubs including a hub which uses a USB-A port built-in for power. You also must decide if you want to use Apple HomeKit platform to integrate with non-Aqara devices? And do you want to integrate with Amazon Alexa and/or Google Assistant enabled devices? All good questions which will help determine the correct Aqara hub.
After testing these devices and integrations, we learned not all Aqara hubs are alike, and some don't work with these popular voice platforms. Also, the app is not as intuitive to use compared to other smart device's apps. But if you find the right combination of Aqara hub and devices, you will be able to overcome the challenges with using their app and build a DIY smart home system. And if you want, you can even build and operate the best DIY smart home security system at an attractive price. Something for you to think about when building your DIY smart home system.
Pros
Big ecosystem of smart devices
Price
Easy DIY installation
No monthly fees
Cons
Even though works on Zigbee connection, you need a smart speaker to integrate with Zigbee compatible devices.
Products don't seem durable
App is not easy to use

How to Find Products in The GearBrain, Our Compatibility Find Engine for Smart Devices

www.youtube.com