Thread continues to expand in HomeKit with the new Eve Room 3. This small, battery-powered sensor helps transmit air quality, temperature, and humidity information to HomeKit users faster than ever before.
Eve Room 3 review - Design
The third generation of the Eve camera is mainly unchanged from the second generation device. With the second generation, Eve completely overhauled the look. The design lasted three years later, and its clean aluminum and black body still looks great. The company has chosen to keep it for this iteration.
Our room on the eve 3 in the kitchen
An aluminum body surrounds the device with a matte finish and a polished beveled edge. Quite similar to what Apple made popular with the design of the iPhone 5. An electronic ink display is framed in front of a glossy black border.
Using an electronic ink display, Eve can keep battery consumption to a minimum. It has a high contrast ratio, which makes it easy to see - for the most part. The transparent cover is very reflective and there is no backlight for the night, which can affect visibility.
In total, there are four display modes for Eve Room, each highlighting a single piece of data. Depending on what you care about, you can emphasize the temperature, humidity, or air quality. Even if one value is displayed more visibly than the others, all three pieces of information are always visible.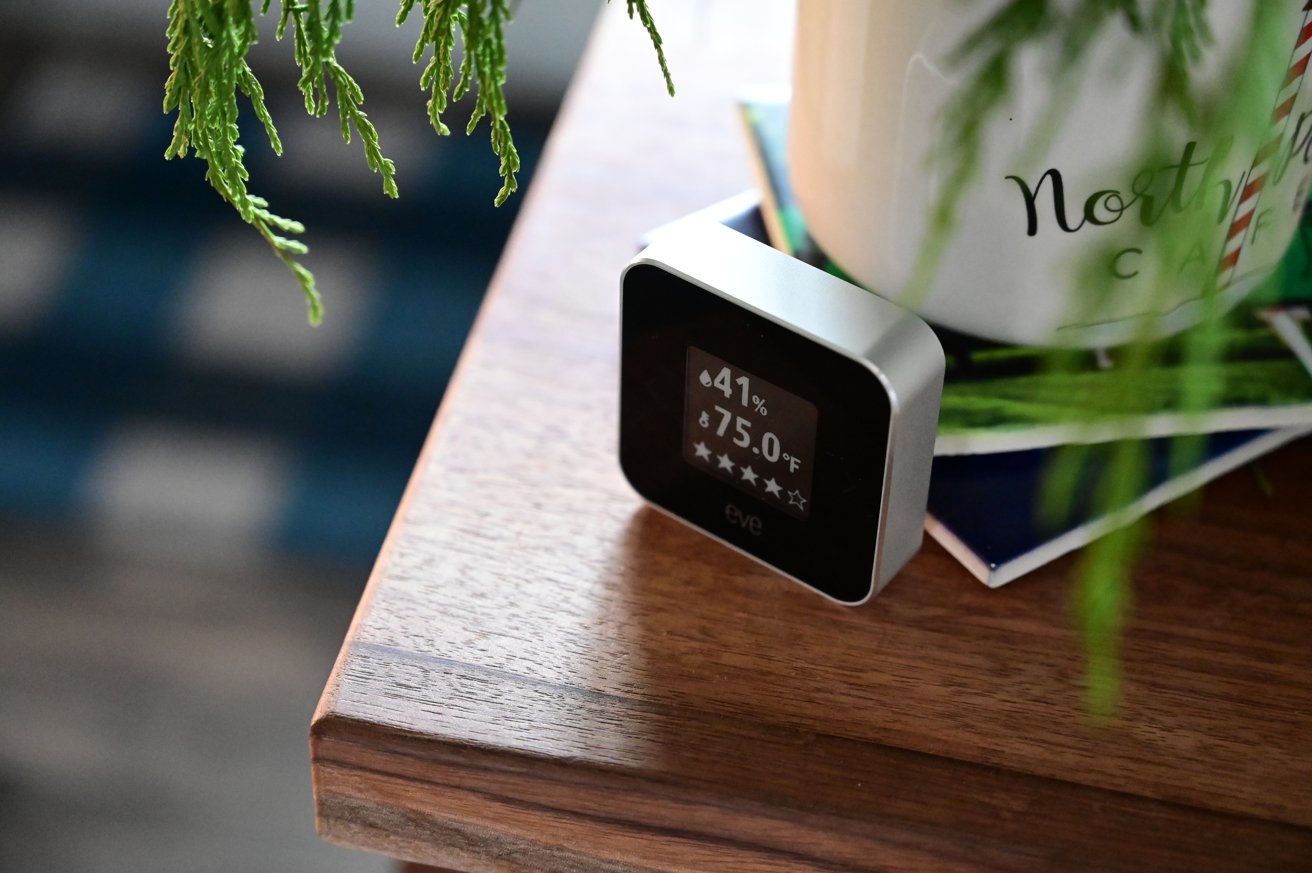 Display in the eve room 3
Touch-sensitive arrows are subtly placed to the left and right of the display and allow you to scroll through the various display options. In our tests, the buttons proved to be a little fickle. We touch them, and yet sometimes the display refuses to change. A few extra touches seem to persuade him to change, but it would be better if the press were recognized for the first time, every time.
As with Eve Room 2, the new Eve Room is powered by an internal battery. This rechargeable battery can be recharged with Micro USB - the included cable - and should last about six weeks of normal use.
About that Micro USB port
However, what is not clear is what Eve's intention was with the third generation Eve camera. It was not a complete redesign, opting for the same design as the latest generation unit. The only hardware change was the inclusion of Thread Radio.
We like the design of the Eve Room 3, but it's impossible for us to get up with the Micro USB port on the back.
When you buy Eve Room 3 in what is actually 2022, someone is committed to having a Micro USB cable in the house for the next three to five years. With the long life of HomeKit products, it could probably be longer.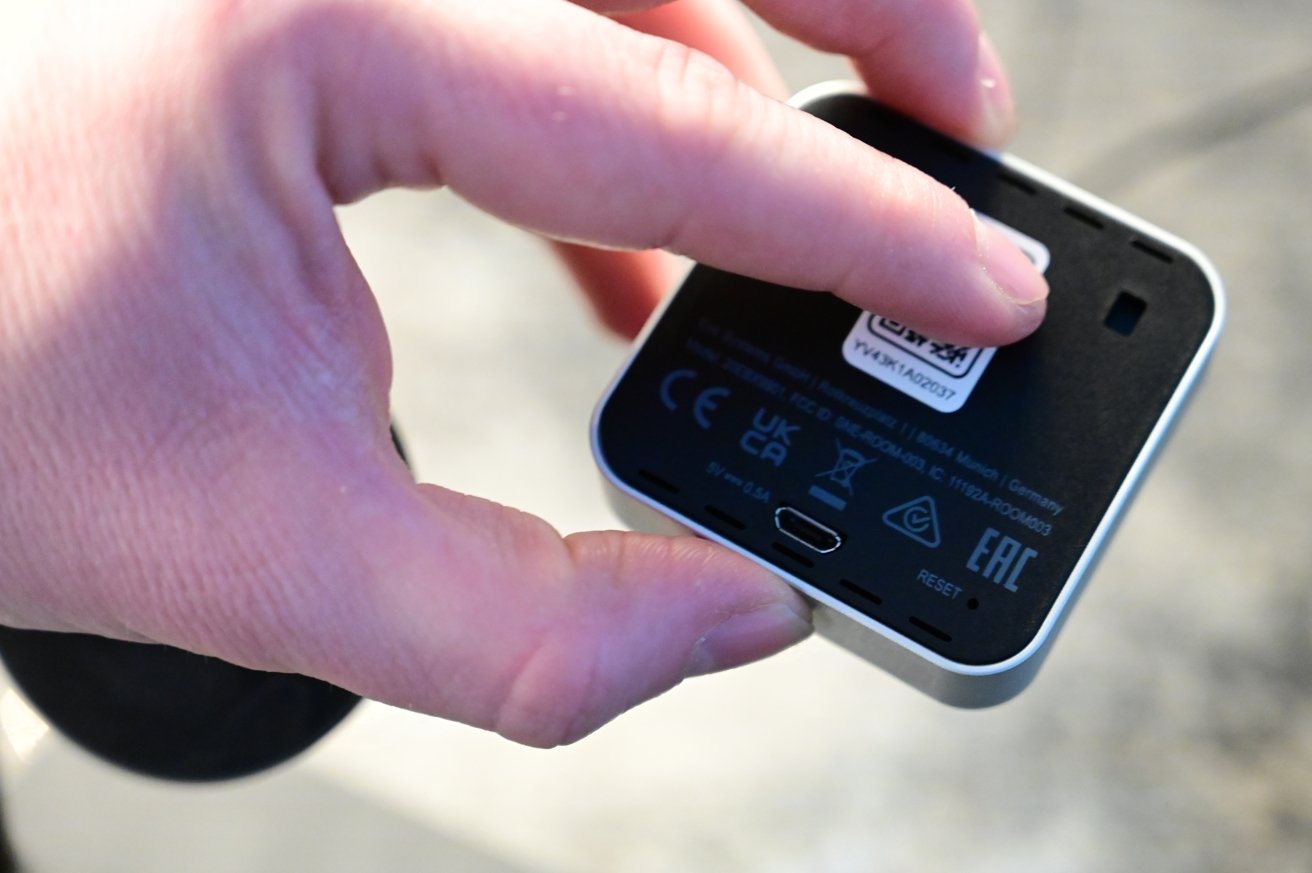 Eve USB 3 Micro USB port
Micro USB by the end of 2022 is unacceptable. We cannot claim that the inclusion of a dead port on a brand new product heading towards 2022 is ok.
Companies like Apple have been supporting USB-C for several years, working on migrating users. Bringing a new product to market and not including USB-C means staying in the past.
With a battery life of approximately six weeks, users will frequently need this cable. We'd rather have Eve return to a coin-operated battery than continue to use Micro USB if USB-C isn't an option for reasons known only to Eve.
Eve Room 3 Review - HomeKit Control
Eve Room measured three different values ​​- temperature, humidity and air quality. As a HomeKit-only device, all the information in the Eve room is displayed in the Home application.
All sensor data is clearly displayed at the top of the camera in small circles. Users can use these values ​​as triggers for various automations and scenes.
For example, if the temperature in the bedroom gets too high, automation can be done to turn on a ceiling fan. If the humidity level is too high, a dehumidifier connected to a smart outlet may be turned on.
The temperature is transmitted either in degrees Celsius or in Faren height (modifiable in the Eve application), the humidity is presented as a percentage, and the air quality is displayed as an evaluation from one to five. Air quality is also indicated in the amount of VOCs detected.
The Home application still lacks some features, including historical data - even though HomeKit still collects this information. To view historical data collected from Eve camera sensors, you need to access the Eve Home app.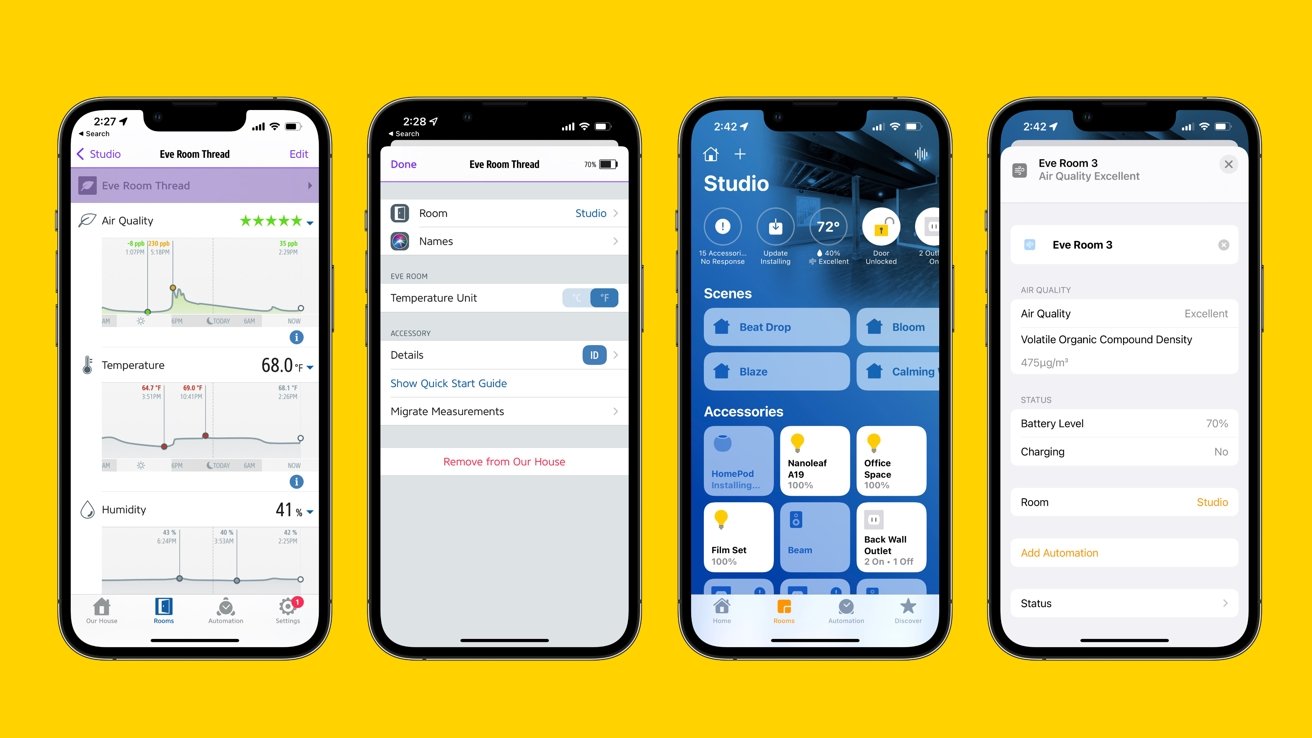 Eve Room in the Eve Home app and in the Apple Home app
In the Eve app, you can expand each value to view information graphically over different periods. Extract the data while the app is in the background, but sometimes we had to wait a few moments while the data was imported from a few days before.
One feature we like that Eve has implemented is the ability to migrate data. If you ever update your sensor or have your device replaced, you will lose that historical data.
But with the Eve app, you can keep your data now. Device settings have an option to migrate data and choose which data set you want to retrieve the information from. It is easy to achieve and monitors these values ​​for longer periods.
In addition to the Home app, you can also ask Siri for any of this information. You can sit comfortably on the couch and ask your Apple Virtual Assistant what the air quality in the living room is like.
Eve Room 3 reviews - Thread
Thread is the main reason for Eve Room 3. The previous generation only connected via Bluetooth, which wasn't always the fastest protocol. When you run an automation, the delays are less than ideal.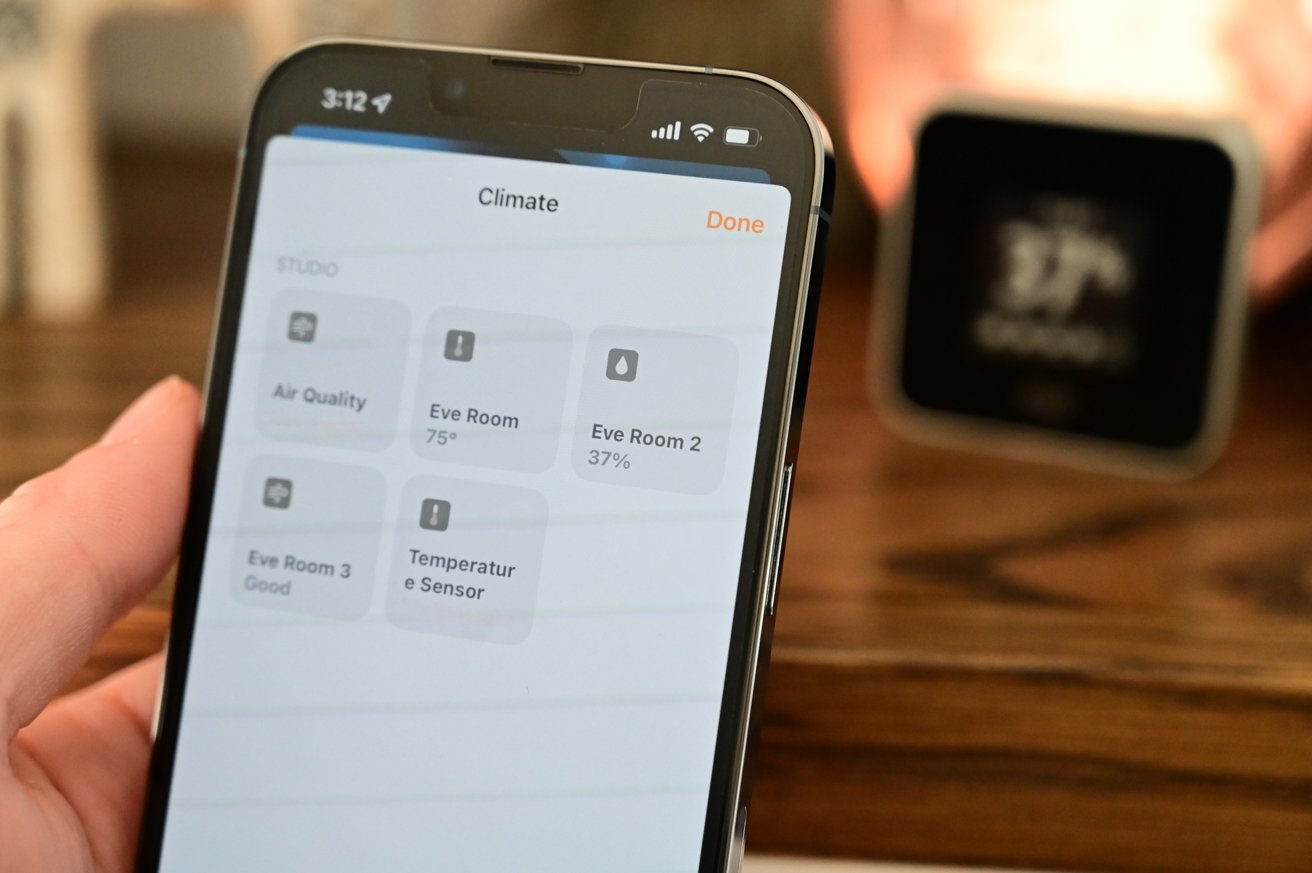 View Eve's room in the Home app
Thread is a new protocol that creates a fast mesh network between supported devices and does everything with very little power. The mesh is self-healing, so the entire network will redirect and keep the remaining devices connected if a device is offline.
To take full advantage of Thread, you need what is called a Thread edge router. In the HomeKit world, the latest generation Apple TV 4K or HomePod mini are both usable as border routers.
Other Thread devices include other Eve products, such as Eve Energy, Eve Aqua, Eve Degree, and several Nanoleaf products from the Essentials line.
To compare, we placed our Eve 2 camera and Eve 3 camera side by side and accessed them from the Eve app. Eve Room 3 was considerably faster in accessing data when requested. After waiting a good 30 minutes, I tried again through Siri and once again, Eve Room 3 responded much faster.
It took Eve Room 2 more than seven seconds to respond to Siri, compared to just a second or so for the Thread-enabled version.
Should You Buy a Third Generation Eve Room?
The recommendation of the third generation Eve room is a problem. On the one hand, Eve Room is the best HomeKit compatible indoor air sensor. It is without a doubt the only Thread compatible - so far. Its sleek look still looks great with anodized aluminum edges and a high-contrast electronic ink display.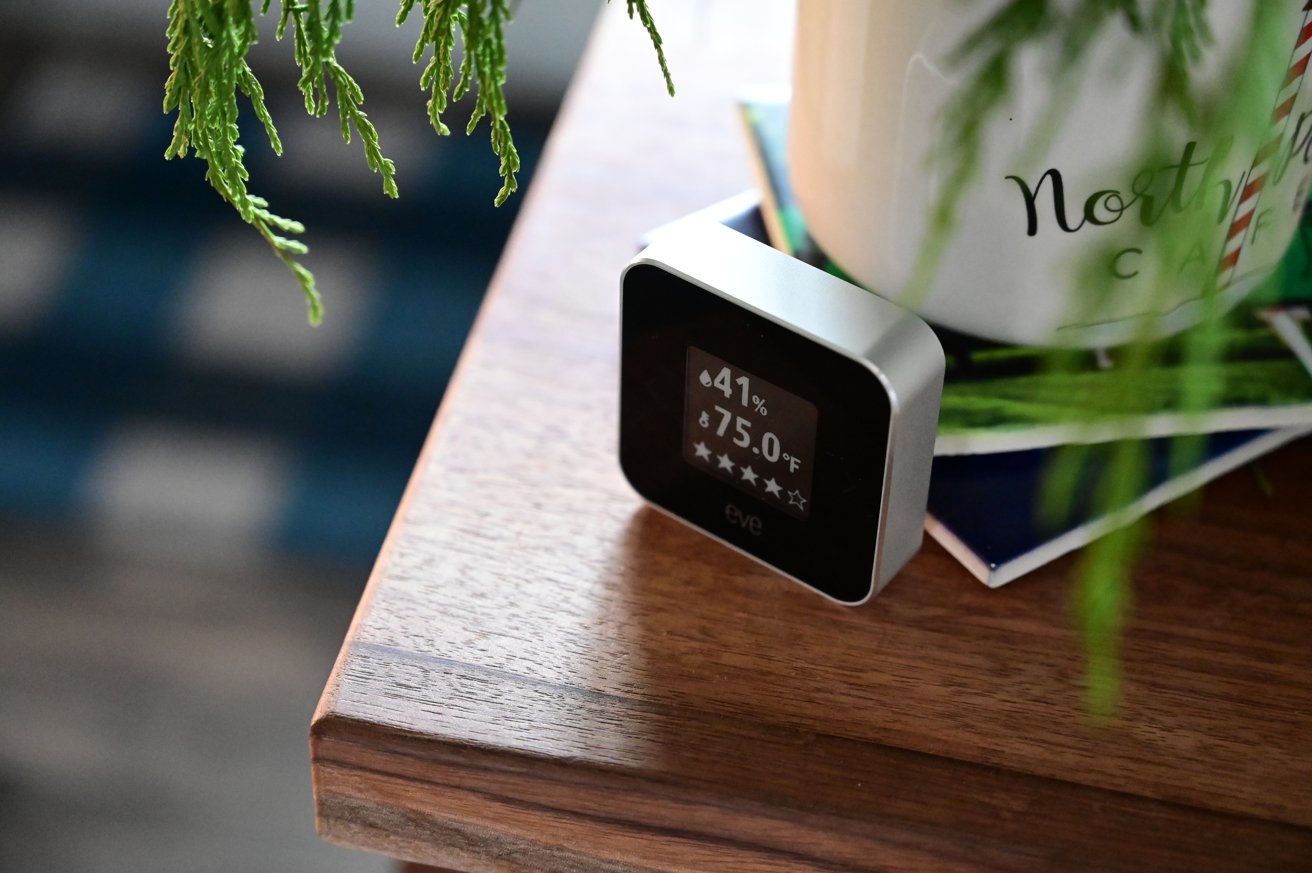 Eve's room
With Eve launching this new version, a completely updated model with USB-C and possibly new features could be quite far away. We would not expect a new model for at least a year or more. If you need a HomeKit sensor soon, Eve is a great option.
Elegant design with aluminum body
e-ink display to view values ​​on your device, not just in applications
Secure support for HomeKit only
Wired connectivity for faster response times
Measures humidity, air quality and temperature in one device
It can be used to trigger automation and routines
Rechargeable battery
Easy to set up
Historical and graphical data in the Eve application
It can migrate data from the old sensor
Multiple display options
It is still based on Micro USB
Buttons can be difficult to change the display
Rating: 3.5 out of 5
Where to buy