VOCOlinc has announced that the Cool Mist humidifier, compatible with HomeKit, is now available in the United States via Amazon. The Cool Mist humidifier works both with the VOCOlinc application available on iOS and Android via Wi-Fi, as well as with the Apple HomeKit, Alexa and the Google Assistant.
Voice / phone control with Alexa, Siri or Google Assistant
2.5-liter water tank with anti-bacterial coating, adds clean, cool moisture to dry air for surfaces up to 430 ft2.
Rainbow spectrum mood light with customizable colors and light effects
Can be used as part of a custom scene or automation, including scheduling start / stop times or weekdays
Running time up to 30 hours
The VOCOlinc Cool Mist humidifier covers small to medium-sized rooms with dimensions of up to 430 square meters. The humidifier has a large tank with a capacity of 2.5 liters, which allows it to operate continuously for up to 30 hours and includes automatic shutdown, programming and timing functions.
In addition to the functions of the humidifier, the humidifier also functions as a smart mood light diffuser and essential oil diffuser. The humidifier can display up to 16 million different colors and custom lighting effects, which can be set via the app or via voice commands.
The VOCOlinc Cool Mist humidifier is now available for purchase on Amazon for $ 69.99, with delivery scheduled for early February. Be sure to come back soon for our full review.
HomeKit enabled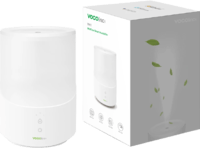 VOCOlinc Cool Mist humidifier

Humidifier, speaker and mood light
The VOCOlinc Cool Mist humidifier is more than a humidifier with colorful mood lighting and broadcast capabilities. HomeKit and application controls make adjustments quick and easy.
We may earn a purchase commission using our links. Find out more.